Save when you buy 10 or more!
SuperStrap®
Provide the length that enables you to grasp limbs beyond your reach, and bind your limbs in position.



SuperStraps® provide length so you can grasp arms, legs, hands or feet that are too far away (in China, perhaps, or Morocco), enabling you to do poses you couldn't reach before. SuperStraps® also help hold your limbs in place while you do poses.

Fasten the SuperStrap® by snapping together the male and female halves of the buckle, and adjust its tension by pulling the loose strap-end. You can release the SuperStrap® easily, no matter how much tension it is holding, by pressing the levers on either side of the buckle.

100% cotton.
9 feet long and 1.5 inches wide.
Colors: Natural, Dark Green, Blue, Purple.
| | |
| --- | --- |
| Superstrap: | |
| 1 - 9: | $10 per Strap. |
| 10 - 29: | $8 per Strap. |
| 30 - 39: | $7 per Strap. |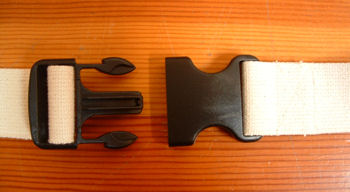 These are the buckles found on many backpacks and other sporting gear. They hold fast and release easily. We really like them!