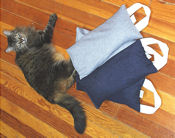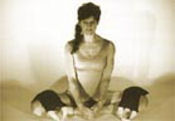 Above: The Sandbags press her knees toward the floor, intensifying the stretch of her inner thigh muscles.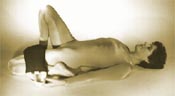 Above: A Sandbag intensifies the stretch of her left thigh by pressing her knee to the floor.
Sandbags
Soft weights for limbs and torso to stabilize stretches.



Sandbags are pliable, soft weights. Place them on your limbs or torso to intensify a stretch, to stabilize your body in a pose, or to keep yourself from flying away in a wind storm. Our Sandbags weigh 10 pounds each. They feature handles, so you can carry them easily. Our Sandbags are made of tightly woven denim and dust-free aquarium gravel, and we sell them in pairs.

Sandbags are durable and versatile. They make marvelous cat-pillows and paperweights. Ours have endured years of being dropped, thrown, and sat upon by people and cats.
Sandbags:


1 - 9 pair:
10+ pair:



$30 per pair.
$26 per pair.


For more than 10 pair, please inquire about reduced shipping rates.


↓↓For 1 - 9 pair
at $30 per pair↓↓.




↓↓For 10+ pair at
$26 per pair↓↓.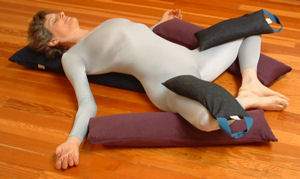 Above: The Sandbags on her knees enable her to reap the inner-thigh stretch with no effort.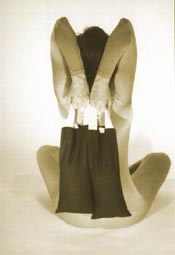 Above: The Sandbags intensify the stretch of her shoulder and chest muscles.